Usage, Function, Construction and Halal Discussion of Collagen and Gelatine
Keywords:
gelatine, collagen peptides, , Collagen
Abstract
Collagen is a structural protein found in many animal species. Collagen and gelatin produced as a result of partial hydrolysis are widely used in many industrial sectors such as food, medicine and cosmetics. The most common source of gelatin in the world is the skin and bones of pigs and cattle. However, it is stated that gelatin obtained from fish and poultry has gained popularity as an alternative to mammalian gelatin in recent years. It is reported that the global gelatin demand has reached 625.5 thousand tons as of 2019. Despite the increasing demand every year, the production of pork and non-slaughtered cattle in the production of gelatin causes Muslims and Jews to stay away from gelatin products, while production from cattle causes Hindus to stay away from gelatin products. However, in our country, it is seen that the negative view towards gelatin has increased as a result of the use of gelatin in products that are not allowed in terms of legislation and the display of these products. Collagen and gelatin products, which are widely used, need to be removed from the bad perception that occurs in these products because they are good protein sources and have the opportunity to be used in many industries. For this purpose, the increase in the number and production capacity of companies producing beef gelatin in our country is a positive development. In addition, the use of gelatin in various food products such as yogurt is not allowed by the Turkish Food Codex. This prohibition is not due to the harmfulness of gelatin but is related to the properties of the product. In addition, the recently obtained collagen peptides have antioxidant, antihypertensive and anticancer properties, offering a new usage alternative. As a result, it is thought that products such as collagen, gelatin and collagen/gelatin peptides will find widespread use in the future as well as now. Therefore, it is of great importance to get a significant share in production and use both in our country and in the world by eliminating the causes of the wrong perception against these products. In this study, it is aimed to give information about the basic properties of collagen and gelatin, usage areas, nutritional properties, religious consumable status and controversial issues related to these products.
Downloads
Download data is not yet available.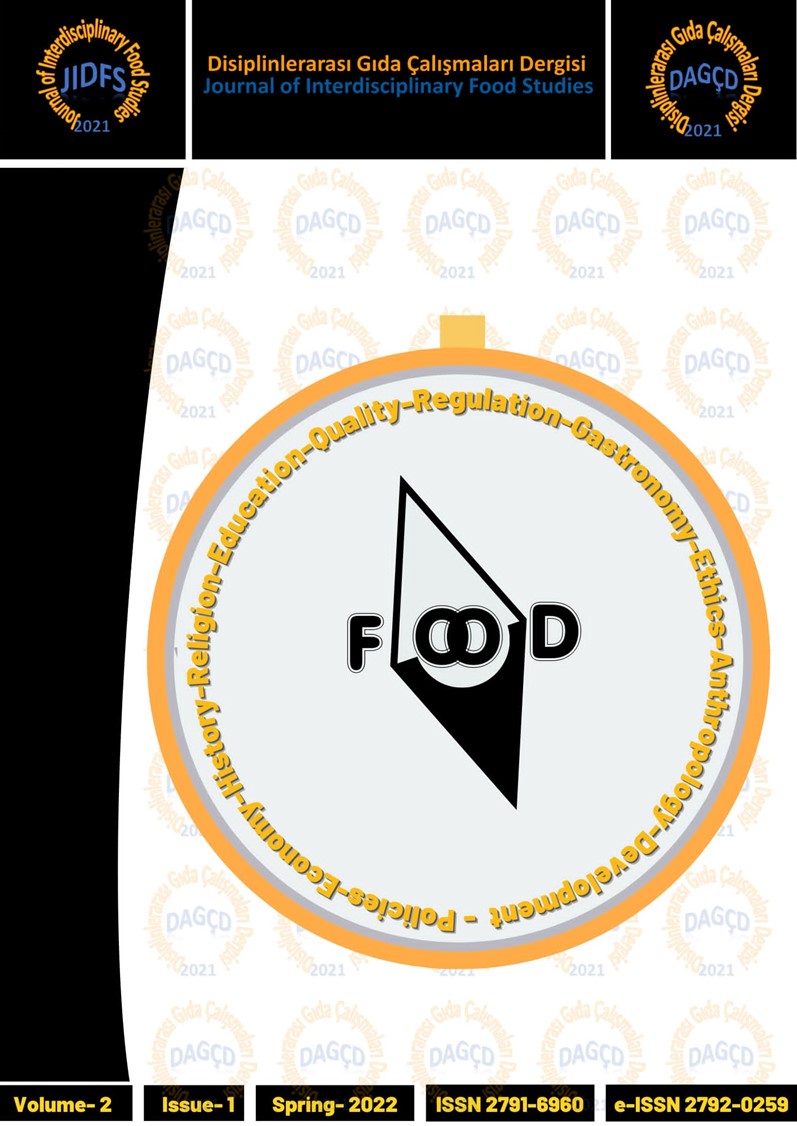 Downloads
How to Cite
Tekle, Şefik. (2022). Usage, Function, Construction and Halal Discussion of Collagen and Gelatine. Journal of Interdisciplinary Food Studies (Disiplinlerarası Gıda Çalışmaları Dergisi), 2(1), 41–50. https://doi.org/10.5281/zenodo.6783681
License
Copyright (c) 2022 Journal of Interdisciplinary Food Studies
This work is licensed under a Creative Commons Attribution-NonCommercial 4.0 International License.