Çaşır (Ferula orientalis L.) Plant and Its Usage in Local Cuisine
Abstract
Plants have been used frequently in different areas of life for various purposes since the beginning of human life. Considering the traditions of hunter and gatherer societies, especially during the gathering process, human beings benefited from plants for many of their needs. The primary benefit they provide is to meet the need for nutrition, warmth, protection and treatment. Turkey has many medicinal and aromatic plants, spices and herbs thanks to its different climatic features and fertile soil. The presence of various herbs from different regions also contributes to the richness of the local cuisines. Edible wild plants that grow spontaneously in the regions are considered as the main product and by-product in the preparation of many dishes in traditional kitchens. Ferula orientalis Linnaeus (1753) is one of the medicinal aromatic plants that can grow spontaneously in the regions and belongs to the parsley family, which is called with its botanical name. With its different species, the çaşar plant can be grown in different geographical areas from Bodrum to Kars in our country. The gene center of the plant is Central Asia. There are 17 species in total in Anatolia, 8 of which are endemic. In this study, the general characteristics and usage patterns of the çaşır (Ferula orientalis L.) plant belonging to the Ferula family, which grows spontaneously in some geographical areas of Turkey, were examined. Thanks to the nutritional components it contains, the herb has therapeutic properties in circulatory system disorders, strengthening of muscles and nerves, diabetes, neurological diseases, asthma, tuberculosis, cough, cholesterol-lowering, normalization of hemoglobin level, cleansing the body from heavy metals, toxins and salts, and hemorrhoids. The çaşır plant, which is used as the main ingredient after being boiled and pickled in meals, is consumed in different types of dishes, especially in brine, in Erzurum local cuisine. With the study, it was tried to emphasize that the awareness of endemic grass species such as çaşır not only in the regions where they grow, but also in the country and in the world should be increased.
Downloads
Download data is not yet available.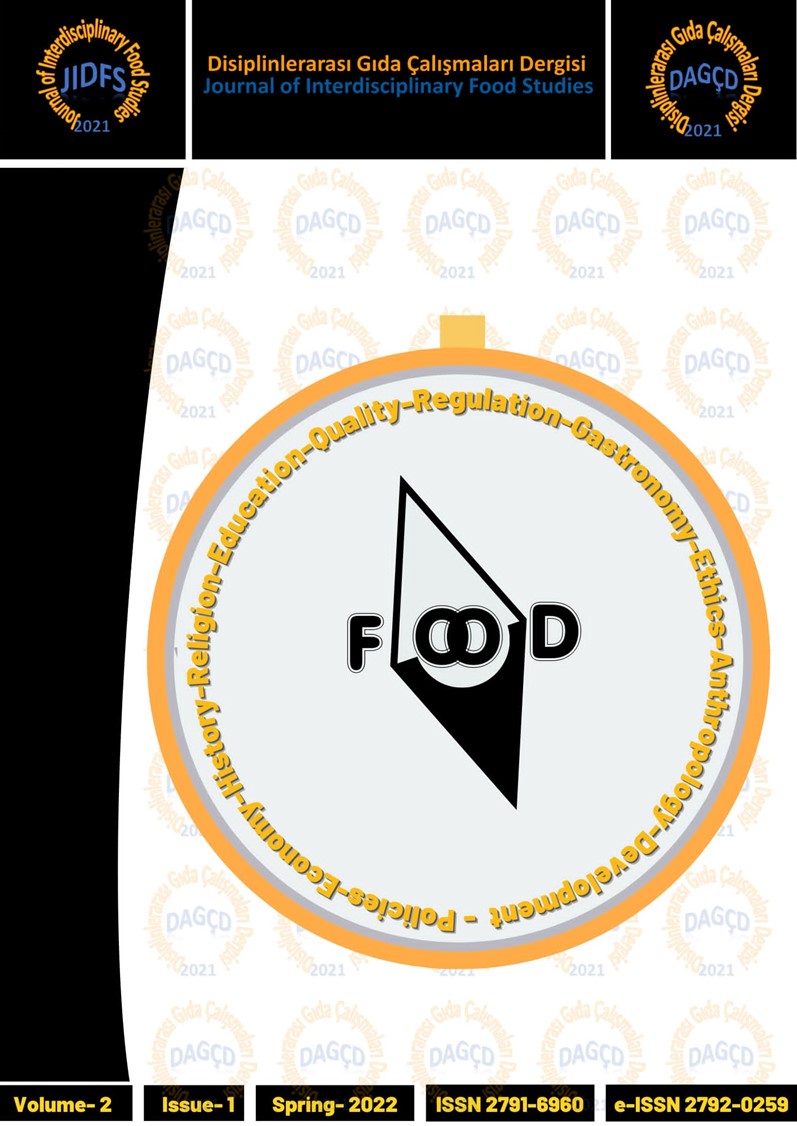 Downloads
How to Cite
Karaman, E. E., & Ceyhun Sezgin, A. (2022). Çaşır (Ferula orientalis L.) Plant and Its Usage in Local Cuisine. Journal of Interdisciplinary Food Studies (Disiplinlerarası Gıda Çalışmaları Dergisi), 2(1), 51–61. https://doi.org/10.5281/zenodo.6783689
License
Copyright (c) 2022 Journal of Interdisciplinary Food Studies
This work is licensed under a Creative Commons Attribution-NonCommercial 4.0 International License.