A Study on The Consumer Preferences Towards Online Shopping of Food Products: The Case of Izmir Province
Keywords:
marketing, online shopping, consumer preferences digital marketing, E-commerce
Abstract
Information technologies have led to large-scale and radical changes in the lives of individuals and societies. One of the points where these changes are rapidly noticed is the digital transformation in e- commerce activities. The goal of this study is to examine and analyse consumer preferences in online shopping, which is a result of this digital transformation in the field of e-commerce. In this study, which is prepared based on the survey data, it is aimed to investigate the consumer preferences for online shopping of food products. Within the scope of this research, consumers' preferences for the markets, applications, monthly total food costs, online food shopping durations, frequencies, categories, products, and payment methods, and whether participants shop online, and they shop online for food products and the factors that they consider while shopping online for food are examined. The research results show that most of the participants are females, singles, aged between 26 and 35, university graduates, middle- income, and private sector employees. It is also concluded that consumers generally shop for food 2-3 times a month with a budget of 500-2000 TL and mostly make their payments in cash. The results revealed that the most important factor that consumers consider during online shopping is quality, and most of them shop online for shoes, clothing, jewelry, etc. While most consumers have been shopping online for more than three years and more than ten times a year, they also prefer to shop online for food products. The findings of the study recommend that supermarket chains improve their marketing strategies by determining the online marketplaces and consumers' approaches to these platforms, their attitudes, and perceptions about online shopping and online food shopping. It is evaluated that the results of this research and future studies in this direction will guide businesses and researchers toward consumers' adaptation to online shopping.
Downloads
Download data is not yet available.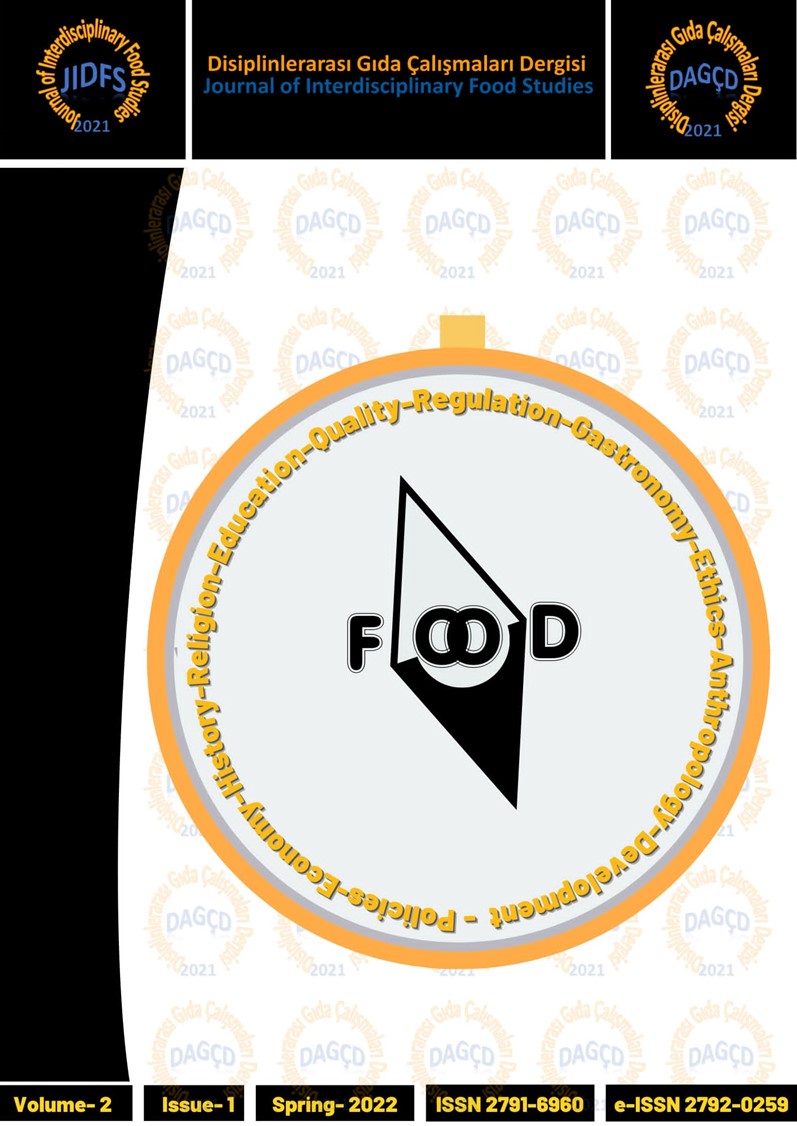 Downloads
How to Cite
Astekin, B. ., & Artukoğlu, M. M. (2022). A Study on The Consumer Preferences Towards Online Shopping of Food Products: The Case of Izmir Province. Journal of Interdisciplinary Food Studies (Disiplinlerarası Gıda Çalışmaları Dergisi), 2(1), 25–40. https://doi.org/10.5281/zenodo.6783678
Section
Research Articles
License
Copyright (c) 2022 Journal of Interdisciplinary Food Studies
This work is licensed under a Creative Commons Attribution-NonCommercial 4.0 International License.